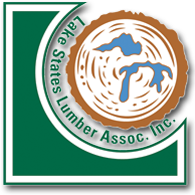 Lakes States Lumber Association Newsletter
Recent Editions:
February-March 2018
October-November 2017
August-September 2017
From the President:
Another Lakes States Lumber Association Winter Meeting in the books! Sure is amazing how quickly the winter meeting seems to come and go but as always, it was a great time to reflect back on the past year with the opportunity to network with customers, suppliers and fellow competitors. It is always nice to try a new location or venue to keep things fresh and exciting and the Radisson Paper Valley in Appleton, WI did an excellent job hosting this years meeting and we look forward to returning next year. Thank you to all whom attended and sponsored the event.
I feel many would agree that our businesses have come along ways since our last economic downturn of 2008-2009, the same can be said about the LSLA Winter Meeting. We have experienced a yearly increase in registration and attendance over these past 10 years. Yes, the economy has strengthened and the lumber industry has experienced year over year growth, however I personally believe one of the largest contributing factors to the growth of our winter meeting is the people working behind the scenes. The LSLA Winter Meeting committee spends countless hours making sure the three-day event runs smoothly while promoting industry discussion of relevant topics and issues affecting our industry. A special Thank you to Maryanne Dainsberg, Larry Krueger, Dave Schroder, Jim Maltese, Leo Meeks, and Rob Paradise for the long hours and continued support for putting on another exceptional meeting in Appleton, WI. The numerous silent and live auction items and the load of green lumber all contribute towards funding LSLA and LSLA's membership with the Hardwood Federation. A big Thank You to all members who participated in the auction. If any of our members have any topics of discussion, speakers of interest to our industry, or any suggestions for next years Winter meeting, please feel free to contact the Board, Maryanne or myself.
During our Friday morning Board meeting there were some additions and changes made to the Board of Directors. First off, we would like to welcome Steve Peters of Rockland Flooring to the Board. Secondly, Pete Johnson of AAA Hardwoods is now the Secretary; Margaret Minerick of Sagola Hardwoods is now the Treasurer; and lastly, Rob Paradise is the Vice President. Congratulations on your new positions and also thank you to your employers for allowing the time to contribute to LSLA. If any members have any questions, comments or suggestions please feel free to contact any of the board of directors, after all we are here to serve on your behalf.
LSLA membership has rebounded from 2009 and 2010 but we still have great potential to grow our organization. In 2010, LSLA had 121 members, 2012 membership grew to 123 members and as of 2017 membership increased to 145 members. The membership growth LSLA has experienced has greatly contributed towards financial stability within the organization, however there is still room for new members. In my opinion the yearly membership for LSLA is a great value especially when compared to the cost of other regional or national hardwood lumber memberships. I ask that each of our current members communicate the value of becoming an LSLA member to an industry partner who is currently not a member. This could be one of your customers, one of your suppliers, an equipment manufacture you have purchased from, trucking companies you use on a regular basis and the list goes on. It would be tremendous if each of our current members could all refer one new member this year. LSLA has a Benefits tab on their website (http://lsla.com/benefits/) that can be shared with any potential new members explaining the value LSLA provides along with a new member application form that may be submitted. How great would it be if a few years from now we had LSLA membership at 200 members? With that being said, I would like each and every one of LSLA's members to make an honest attempt to share the value that LSLA provides to a nonmember with hopes they too will see the value LSLA can provide to them.
Brady Francois
Snowbelt Hardwoods
Email: bfrancois@snowbelthardwoods.com
For subscription, address corrections, or to contribute news articles, opinion pages, classified ads, or advertising, contact us at:
P.O. Box 8724
Green Bay, WI 54302
(920) 884-0409
Join the advertisers of The Log today!
Start seeing the difference! Whether you are buying or selling, The Log can make it simple. This newsletter is published bi-monthly and is received in many US states and Canada. For more information, call us at (920) 884-0409 or contact us online.
Advertising Prices
1/8 Page Ad…………………………….. $45.00/Issue
1/4 Page Ad…………………………….. $90.00/Issue
1/2 Page Ad…………………………… $180.00/Issue