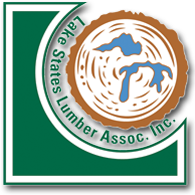 Lakes States Lumber Association Newsletter
Recent Editions:
April-May 2018
February-March 2018
October-November 2017
From the President:
It is hard to believe Spring is already here especially when my truck thermometer was reading "0" the other morning. The cold start to Spring has allowed mills in Northern Wisconsin and Michigan to have an ample supply of logs, but now with road limits in place we will see if our log inventories will be large enough to get us through breakup. While we patiently wait for road limits to cease, as they are only a seasonal hurdle, we continue to fight a separate issue that is affecting more than just the timber industry and it seems to be only getting worse and is causing many logistical nightmares throughout the United States — electronic logging devices or ELDs.
ELDs force drivers to adhere to strict DOT driving guidelines for drivable hours, eliminating the ability for a driver to have an "extra" log book. The ELDs are an extra expense for truckers with costs that include an upfront purchase and installation of an ELD as well as a monthly subscription fee. With the implementation of the ELDs, truckers have increased their mileage rates, and some have included hefty overnight surcharges to cover a hotel stay and meals for a haul that now requires an overnight stop. The ELDs are impeding truckers' weekly mileage which has created a nationwide trucking shortage.
ELDs were to be installed in all commercial trucks by December 18th, however some truckers have elected not to install ELDs and have continued to drive. Starting April 1st, 2018, any commercial truck that does not have an ELD installed will be placed out of service. I would not be surprised to see an increase in trucking rates again starting April 1st as I imagine some truckers will simply retire from the industry only to once again reduce the number of trucking options available for shippers.
The impact of ELDs in the lumber industry (as well as other industries) has not only decreased the availability of truckers and caused an increase in shipping rates, the ELDs are also acting as a bottleneck to monthly invoicing opportunities as more and more finished orders continue to sit awaiting pickups. With the increased demand for pickups, truckers are now being more discerning when choosing which loads they want to move and prefer a simple in-and-out move vs a complex pickup. With that being said, the importance of having a good relationship with your local truckers is more important than ever.
Besides having a good relationship with your local trucking companies, it's also important to make the pickup process for their drivers a simple and smooth process in order to keep drivers content and willing to return to your facility. Simple things such as having the load staged and ready to pick up, having all documentation and paperwork ready, allowing the driver to use your washroom or breakroom, having a Wi-Fi network and password so the driver can use your internet while they are waiting to get loaded, and even having coffee and doughnuts in the office for drivers. Another idea is to offer extended hours and weekend loading and unloading hours to allow for a flexible schedule for drivers. One other item that we have installed at Snowbelt Hardwoods that helps tremendously is having a scale on site for drivers to ensure loads are not overweight or over-axle. There is no quicker way to lose a trucking company's business than to send one of their trucks down the road only to get a ticket from the DOT for being overweight. Last but certainly not least is treating the drivers with respect and common courtesy, a simple "thank you" and "have a great day," can go a long way.
Brady Francois
Snowbelt Hardwoods
Email: bfrancois@snowbelthardwoods.com
For subscription, address corrections, or to contribute news articles, opinion pages, classified ads, or advertising, contact us at:
P.O. Box 8724
Green Bay, WI 54302
(920) 884-0409
Join the advertisers of The Log today!
Start seeing the difference! Whether you are buying or selling, The Log can make it simple. This newsletter is published bi-monthly and is received in many US states and Canada. For more information, call us at (920) 884-0409 or contact us online.
Advertising Prices
1/8 Page Ad…………………………….. $45.00/Issue
1/4 Page Ad…………………………….. $90.00/Issue
1/2 Page Ad…………………………… $180.00/Issue