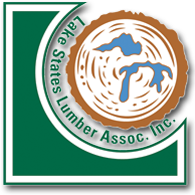 Lakes States Lumber Association Newsletter
Recent Editions:
October-November 2018
August-September 2018
June-July 2018
From the President:
We can all agree it has been very difficult hiring new qualified employees. Some will argue that the lack of the current labor workforce is correlated to the baby boomer generation reaching retirement, and others will argue it's due to poor work ethic of the "younger" generation. While both of these factors may contribute to the large sum of Help Wanted ads found in local newspapers and numerous Help Wanted signs and billboards plastered throughout our small towns and communities, it is a sure sign unemployment levels are at all-time lows due to a growing economy. According to the Job Openings and Labor Turnover survey conducted by the Labor Department, current unemployment rates are close to an 18-year low (3.9% July 2018) and July 2018 job openings increased to 6.9 million openings. Throw these two factors together and you create a market of opportunity for the US labor force.
Ten years ago, after the collapse of the housing market and recession, if an employer were to place a help wanted ad in their local newspaper they would receive multiple qualified candidates seeking the position overnight. Fast forward to the present, where we have extremely low unemployment levels and a growing economy whose manufacturing industries are seeking more bodies to fill open positions, the competition for qualified candidates has never been tighter. The US labor force is shopping their current job in hopes of securing a higher paying job that offers more perks and benefits than what their current employer is offering. The Labor Department also noted 3.58 million employees quit their jobs in July of 2018.
As I mentioned earlier, we can all relate to the current challenge of filling open positions with qualified candidates, however there are some things we can do to ensure our current employees are retained and not tempted to see if the grass is greener elsewhere:
Rewarding Financially: This could be as simple as offering a 401k plan for employees or a profit-sharing program, both of which offer a means of savings for retirement. Another idea is to provide financial performance goals.
Internal Employee Development: Promoting within our company whenever possible providing for advancement within the company.
Employee Development: Continued education such as offering management classes or specialized schooling and training such as NHLA Grading School or even short courses provided by LSLA Education.
Small Perks: Cater lunch once a month for your employees and coffee and doughnuts on Friday mornings.
We will continue to have employment issues in our industry for the foreseeable future, so it is critical we can offer competitive pay and benefits to attract new employees. It is also very critical to retain our current employees as they are the ones that keep the day to day operations moving and set examples of work ethic and culture of your company that progresses to new employees.
Brady Francois
Snowbelt Hardwoods
Email: bfrancois@snowbelthardwoods.com
For subscription, address corrections, or to contribute news articles, opinion pages, classified ads, or advertising, contact us at:
P.O. Box 8724
Green Bay, WI 54302
(920) 884-0409
Join the advertisers of The Log today!
Start seeing the difference! Whether you are buying or selling, The Log can make it simple. This newsletter is published bi-monthly and is received in many US states and Canada. For more information, call us at (920) 884-0409 or contact us online.
Advertising Prices
1/8 Page Ad…………………………….. $45.00/Issue
1/4 Page Ad…………………………….. $90.00/Issue
1/2 Page Ad…………………………… $180.00/Issue