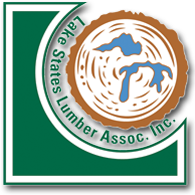 Lakes States Lumber Association Newsletter
Recent Editions:
June-July 2017
April-May 2017
February-March 2017
"From the President"
As president of Lake States, I feel it is my responsibility to continually try to understand what the challenges are facing our members so that we can focus as an association on trying to address those issues. Whenever I ask people in the industry what are the issues facing them today, the conversation inevitably leads to "It just isn't as much fun as it used to be." This roughly can be translated into "We're getting by but we're not making much money." Much like "hope", "getting by" should not be a business strategy.
Our industry certainly took a beating during the downturn, but I want to give you a date, June 2009. That is 8 years ago and it is the month that the Great Recession officially ended. My suspicion is that most of our members do not feel like things are back to normal. Why is that? The obvious answer is because it is harder to make a buck, but why? It certainly is not because of demand. In 2009, the total consumption of US hardwoods was estimated to be 6.5 mmbf, today it is 8.3mmbf. In 2009, housing starts were around 550,000, today they are over 1,100,000.
To a large degree it is a supply issue. Because the industry has an abundance of capacity, the supply tends to be kept at elevated levels. With that excess supply, prices suffer. However, supply can be controlled and pricing negotiated. The real reason is because our industry accepts it. We simply accept investment returns that are too low. As eternalized by the Pogo cartoon strip in the '70's, "We have met the enemy and he is us."
This does not mean there are not a lot of other factors impacting our profitability, but we are the ones that, at the end of the day, are willing to take an order that does not result in the return that we would like, or quite honestly need. The lumber industry is capital intensive and relatively risky, and for that, there should be an appropriate return. At some point there will be, it is just a matter of how we as an industry choose to get there. We could choose to recognize the cost of capital, the risks associated with a commodity market and price our products accordingly, or we could choose to allow the power of the free market to make the decision for us. If we allow the latter, the result will be that, at some point, there will be a lot less of us in this business.
Unfortunately, I believe it is inevitable that it will be the latter. We are a highly fragmented industry that tends to be suspicious of others. If we were a family, we would certainly have trust issues, but this does not have to be a death march. While I am all for endurance tests, I would rather see the industry survive like it is, made up of a diversified group of good hardworking people. In order for that to happen, we need to change as a group. If you believe that you can wait this thing out and it will get better, you are going to be a casualty. You need to start thinking about how are you going to make the return you want today. That starts with being willing to say "No, I won't sell my product at a price that doesn't offer a reasonable return." A sale is only made when both parties believe that the value of doing the deal is greater than the value of not doing the deal. When you are determining those values, make sure you not just basing your decision on getting by; I would like you to be here for the long term.
Gus Welter, LSLA President
Direct: 920-250-5678
Cell: 608-778-5505
Email: gwelter@granitevalley.com
For subscription, address corrections, or to contribute news articles, opinion pages, classified ads, or advertising, contact us at:
P.O. Box 8724
Green Bay, WI 54302
(920) 884-0409
Join the advertisers of The Log today!
Start seeing the difference! Whether you are buying or selling, The Log can make it simple. This newsletter is published bi-monthly and is received in many US states and Canada. For more information, call us at (920) 884-0409 or contact us online.
Advertising Prices
1/8 Page Ad…………………………….. $45.00/Issue
1/4 Page Ad…………………………….. $90.00/Issue
1/2 Page Ad…………………………… $180.00/Issue