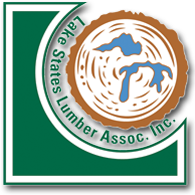 Lakes States Lumber Association Newsletter
Recent Editions:
August-September 2017
June-July 2017
April-May 2017
"From the President"
The Log, and as a result this article, is distributed to 279 legislators in Wisconsin and Michigan. Approximately half of those are Wisconsin legislators. This article is addressed to you.
Today, the forest products industry in Wisconsin is at a terrible competitive disadvantage compared to its neighbor state, Michigan. For a state that depends heavily on the forest products industry, the legislature in Wisconsin along with the Wisconsin Department of Transportation, has failed to address a subject which saddles our industry with $100,000,000 in additional operating costs when compared to Michigan. I'm talking about freight, and specifically the fact that Michigan allows the widespread use of B-trains, while Wisconsin does not.
Trucks in Michigan are allowed to gross up to 164,000 lbs, compared to 98,000 lbs for a six-axle truck in Wisconsin or 80,000 lbs for a five-axle truck. This is safely accomplished by adding more axles, up to an 11-axle configuration. That means that a truck in Michigan can carry approximately 60% more product than a 6-axle configuration in Wisconsin and twice as much product as a 5-axle configuration. To put it another way, that means the industry in Wisconsin puts 60% to 100% more trucks on the highways to haul its product. That's more traffic, more fuel, more drivers. I suspect if you asked your constituency if they would like less traffic on our roadways, especially semi-traffic, you would receive an emphatic "Yes".
As an owner of several forest products facilities in Wisconsin, let me give you some perspective. Freight costs, as a percentage of sales, is between 5%-10% for most manufacturers in this industry. This represents an amount greater than the net income for virtually every manufacturer in the industry. That means even small reductions in freight costs would have a significant impact on the bottom line. Today however, instead of reinvesting in our facilities or expanding operations, we are paying to put more trucks on the road.
An additional challenge created by this increased trucking requirement is the need for more truck drivers. Did you know that truck drivers are one of the most sought after positions today? There are not enough drivers for the current demand, let alone if we want to grow manufacturing in Wisconsin. Reducing that demand by 40% to 50% would bring a much-needed relief to an industry that is being stretched to its limits and would give it room to grow to meet future demand.
You might believe that the higher gross weights would result in increased wear and tear on our roadways. The reality is quite the contrary. There are two factors at play that create this apparent paradox. The first has to do with the number of axles. In either case, the Wisconsin truck averages 16,000 lbs or more per axle while the Michigan truck averages less than 15,000 lbs. The load is spread out more, resulting in less wear. The other factor not typically highlighted is that a percentage of every truckload is the weight of the truck and trailer. If you increase the number of trucks on the road, you increase the amount of this fixed weight on our roads, increasing the overall daily tonnage that our roadways have to carry.
My primary responsibility is to advocate for the industry that I represent, but this is one of those topics that impacts every manufacturer within the state. If the freight disadvantage to the forest products industry costs approximately $100 million dollars annually, what is the cost to the other industries in the state? If you want to give Wisconsin the same competitive advantage that Michigan has, open up our roads to lower axle weight trucks.
Gus Welter, LSLA President
Direct: 920-250-5678
Cell: 608-778-5505
Email: gwelter@granitevalley.com
For subscription, address corrections, or to contribute news articles, opinion pages, classified ads, or advertising, contact us at:
P.O. Box 8724
Green Bay, WI 54302
(920) 884-0409
Join the advertisers of The Log today!
Start seeing the difference! Whether you are buying or selling, The Log can make it simple. This newsletter is published bi-monthly and is received in many US states and Canada. For more information, call us at (920) 884-0409 or contact us online.
Advertising Prices
1/8 Page Ad…………………………….. $45.00/Issue
1/4 Page Ad…………………………….. $90.00/Issue
1/2 Page Ad…………………………… $180.00/Issue