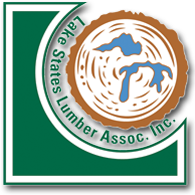 Lakes States Lumber Association Newsletter
Recent Editions:
June-July 2018
April-May 2018
February-March 2018
From the President:
I hope all of our members had a great Memorial Day weekend and enjoyed the sun and heat- it sure was a welcoming change after 7 months of long Winter!
In this article I wanted to shed light on an emerging problem related to the ever-changing technology that we all heavily rely on for our day to day business operations. With today's fast paced communication via email, we are now bombarded with many types of junk email with attachments just waiting to be clicked on that could potentially contain malware, ransomware or even viruses that could potentially cost you and your company a pretty penny. Most potential threat emails can be "flagged" by an antivirus software and moved to a spam folder, but it is important to instruct all employees to only open attachments from a sender they trust in order to avoid a potential threat to your computer, network or your checkbook.
These hackers and bots sending these emails have recently changed their cookie cutter approach and have started sending industry specific emails in order to trick their intended victims. These new complex attacks called BECs (Business Email Compromise) and EAC (Email Account Compromise) are targeted at companies and individuals who perform wire transactions on a regular basis for domestic and international payments. These threats stem from company or employee emails being compromised, or where a hacker creates a similar email address to portray themselves as someone in your company requesting funds be sent elsewhere. We recently had an LSLA member whose customer was a victim of a similar scenario. The overseas customer received an email from an email address acting to be from the LSLA member informing that their banking information had recently changed, and all outstanding balances should be paid ASAP to the provided "new'' banking information. Fortunately, this member's customer called via phone to verify their banking change request and luckily no funds were sent to the scammer.
According to the Internet Crime Compliant Center (IC3), "the 2017 Internet Crime Report—which reveals that the center received more than 300,000 complaints last year with reported losses of more than $1.4 billion." Of those 300,000 complaints, 15,690 of those were from BEC and EAC complaints with corrected damages in access of $675 Million Dollars. Its apparent there is still an incredible risk with of cyber-attacks no matter how large or small your business may be, I urge all of our members to take the time to speak with your coworkers and employees and explain the importance of only opening emails and attachments from individuals they know and to always verify any substantial requests or changes to wire transfer instructions.
To end, just in case you may have missed the LSLA email blast, we are currently running a membership drive giving you the opportunity to save $100 off next year's membership by bringing a new member to sign up to join LSLA. You can provide the following link to potential new members that explains just some of the benefits of becoming a member, http://lsla.com/membership. We hope all of our current members take advantage of this great offer and help contribute towards membership. Also, remember to mark your calendars for the 2017 LSLA Golf Outing held July 25th and 26th, we look forward to seeing everyone in Wisconsin Dells.
Brady Francois
Snowbelt Hardwoods
Email: bfrancois@snowbelthardwoods.com
For subscription, address corrections, or to contribute news articles, opinion pages, classified ads, or advertising, contact us at:
P.O. Box 8724
Green Bay, WI 54302
(920) 884-0409
Join the advertisers of The Log today!
Start seeing the difference! Whether you are buying or selling, The Log can make it simple. This newsletter is published bi-monthly and is received in many US states and Canada. For more information, call us at (920) 884-0409 or contact us online.
Advertising Prices
1/8 Page Ad…………………………….. $45.00/Issue
1/4 Page Ad…………………………….. $90.00/Issue
1/2 Page Ad…………………………… $180.00/Issue