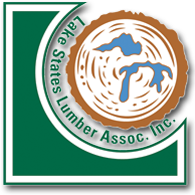 Lakes States Lumber Association Newsletter
Recent Editions:
October-November 2017
August-September 2017
June-July 2017

"From the President"
Gus Welter, LSLA President
I have made the statement on a number of occasions "Without good people, all we have is iron and real estate." Today, I believe truer words have never been spoken. Unfortunately, the ability to recruit and retain good people has never been more difficult. Whenever I find myself in a conversation with any other business owner or manager, the topics of discussion almost always ends up including "How are you doing with people?" I would go so far as to say it is our number one challenge and I suspect it is yours as well.
The lack of quality people makes sense when you look at the unemployment rate, which currently sits at 4.4%. It would appear that they are just not out there. However, that does not tell the whole story. The labor participation rate is currently only 62.9%, which means there is a lower percentage of people in the workforce today than any time since the Carter administration. Put it another way, if the participation rate was the same as it was 10 years ago, the current unemployment rate would be over 9%. The people are out there. Then why are they not looking for work and why are they not employed since there is certainly an abundance of positions available? The simple answer is because they do not have to work. They have found a way to "get by" without working.
So, what is at play here? For starters, I believe that the value of work is no longer instilled into a large portion of our society. I personally believe there is meaning and purpose to work, it is not just about receiving a paycheck, but that purpose is no longer being recognized. As a result, I think a large percentage of people value their time more than they do money. This is only reinforced by the messaging you see, especially on social media, which puts more emphasis on experiences than belongings… take the trips, don't buy the house. Time and experiences becomes the point of their life. If that is your primary focus and purpose and financial security are not, you certainly can get by with a lot less money.
What does that mean for those of us that still need to hire good people to help our business thrive and grow? For starters, I believe the means of motivation have changed, a paradigm shift. Expecting all of your employees to show up for work, engage and work hard simply because they want a job and a paycheck is not going to be successful. You need to find a way to motivate them with time. This might mean hiring more part time employees or using additional time off as an incentive. It means completely changing how you think about what's important to your employees. As an example, I had an HR professional that relayed, from her own perspective, she would be willing to take a pay cut to get an extra week's vacation if her employer would give it to her. I certainly don't believe that would be the case with an entry level employee, but it is representative of a mindset.
As the economy continues to strengthen, most manufacturers are experiencing an increase in demand for their goods. However, the ability to take advantage of that demand today is constrained by the ability to find good quality people. If we are going to recruit and retain the people that we need to run our operations, we are going to need to adapt. Expecting a changed workforce to conform to our traditional expectations and means of motivation is futile.
Gus Welter, LSLA President
Direct: 920-250-5678
Cell: 608-778-5505
Email: gwelter@granitevalley.com
For subscription, address corrections, or to contribute news articles, opinion pages, classified ads, or advertising, contact us at:
P.O. Box 8724
Green Bay, WI 54302
(920) 884-0409
Join the advertisers of The Log today!
Start seeing the difference! Whether you are buying or selling, The Log can make it simple. This newsletter is published bi-monthly and is received in many US states and Canada. For more information, call us at (920) 884-0409 or contact us online.
Advertising Prices
1/8 Page Ad…………………………….. $45.00/Issue
1/4 Page Ad…………………………….. $90.00/Issue
1/2 Page Ad…………………………… $180.00/Issue