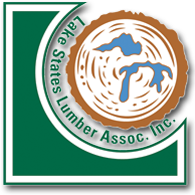 Lakes States Lumber Association Newsletter
Recent Editions:
December 2018-January 2019
October-November 2018
August-September 2018
From the President:
This past year was an economically strong year for many of us. We all have a lot to be thankful for even though the word "tariff" has been a throbbing thorn in many of our sides for much of 2018. It is amazing how far our industry has come these last ten years since the last downturn and US economic crisis. We can only hope that 2019 will continue this upward trend of slow and steady growth within our industry and economy. With the mild start to Winter and lack of snow thus far, it is hard to believe another year has come and gone. Our 2019 Winter meeting will be here before we know it.
The 2019 LSLA Winter Meeting will be held once again in Appleton, WI at the same venue as last year, however the name has been now changed to the Red Lion Hotel Paper Valley. Besides the name change, our location at the venue has been changed from the basement to their Grand Ballroom on the main floor. The LSLA Board had a chance to tour the new floor space and we feel everyone will greatly prefer the sessions and banquet in this new space.
There are still several sponsorship opportunities for this year's LSLA Winter Meeting. Some of the sponsorships we are still looking to receive are:
Legacy Load of Lumber Sponsors- $250-$1,500+
Gift Bag Sponsorship- $250
Lake Superior Sponsorship- $1,000
Lake Michigan Sponsorship- $750
Lake Ontario Sponsorship- $500
On top of these sponsorship opportunities, we also have Exhibitor space available for $500 per exhibitor that also includes one admission to the Winter Meeting. The Exhibitor space represents a great opportunity to showcase your compa-ny while networking and meeting and greeting with members. Last but not least, we are still looking for items that can be donated for our live and silent auction. LSLA's yearly contri-bution to the Hardwood Federation is greatly dependent upon these auction items. If you have an item(s) you or your com-pany would like to donate to the auction or have any questions about the auction, please reach out to myself or Dave Schroeder at gmc@jefnet.com. All auction items, large and small, are greatly appreciated.
One last comment, the LSLA Board has selected a new representative to lobby on behalf of LSLA in Wiscon-sin starting January 1, 2019. LSLA's new Wisconsin lob-byist is Amy Boyer of Boyer Consulting, LLC located in Madison, WI. Amy has more than two decades of lobby-ing experience and has built strong relationships within the Legislature and Administration that will be a large as-set for LSLA. Amy will be attending the Winter meeting and I encourage our membership to introduce yourselves and welcome Amy to our LSLA Family.
Thank you once again to all our members for an-other great year! I wish everyone a Merry Christmas and a Happy New Year. I will see everyone come January in Appleton, WI.
Brady Francois
Snowbelt Hardwoods
LSLA President
Email: bfrancois@snowbelthardwoods.com
For subscription, address corrections, or to contribute news articles, opinion pages, classified ads, or advertising, contact us at:
1353 W Hwy US 2, Suite #2
Crystal Falls, MI 49920
Join the advertisers of The Log today!
Start seeing the difference! Whether you are buying or selling, The Log can make it simple. This newsletter is published bi-monthly and is received in many US states and Canada. For more information, call us at (920) 884-0409 or contact us online.
Advertising Prices
1/8 Page Ad…………………………….. $45.00/Issue
1/4 Page Ad…………………………….. $90.00/Issue
1/2 Page Ad…………………………… $180.00/Issue