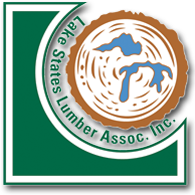 Lakes States Lumber Association Newsletter
Recent Editions:
August-September 2018
June-July 2018
April-May 2018
From the President:
Besides the record breaking heat we have all experienced this summer, the lumber market seemed to set some new records as well. Demand has increased steadily since the first of the year, and production has also increased as lumber gets pushed through kilns faster during these Summer months. However, this steady increase in demand and sales has recently changed its tone the last few weeks with talks of a trade war between President Trump and China's President Xi Jinping. Throw into the mix the typical Summer "slump" and a strong US dollar, we now seem to be in a high inventory, lower demand market with multiple players sitting on the sideline waiting to see if these tariffs will take place. We now find ourselves scratching our heads wondering what happened and how will this impact our businesses for the remainder of the year? Not having the answer, I am however positive this will only be another correction to the market and another reminder of no matter how small we are, changes at a global level still trickle down to us here in the Lake States region.
On a brighter note, another spectacular LSLA Summer Golf Outing and meeting in the books! Thank you to all of our members who made the trip to the Wisconsin Dells. My hat goes off to Jason Brettingen, Peter McCarty and the rest of the LSLA Golf Committee for all of the hard work that went into putting on another flawless event. I would also like to thank all of our members for their generous sponsorships. This event continues to get better and better each year with more and more of our members attending, 2018 will be tough to beat. We are looking forward to seeing everyone in Milwaukee, WI for next year's Summer Meeting Golf Outing.
As many of you know, our LSLA Coordinator Maryanne Dainsberg, who has been with us these past ten years will be retiring later this year. Maryanne, we wish you the best of luck going forward and we will greatly miss your hard work, attention to detail, and dedication you have provided to LSLA these past 10 years; you really have made all of the LSLA and LSLA Education Board Members' jobs quite easy. With that being said, LSLA will be looking for a new Administrative Coordinator, if you know of a potential candidate for the position, please contact Maryanne for more information pertaining to the job description, daily/monthly duties, and requirements. Also, please remember all current LSLA members who refer a new member to join LSLA will receive a $100 discount off their 2019 Dues - don't miss out on a great opportunity to grow our organization!
Brady Francois
Snowbelt Hardwoods
Email: bfrancois@snowbelthardwoods.com
For subscription, address corrections, or to contribute news articles, opinion pages, classified ads, or advertising, contact us at:
P.O. Box 8724
Green Bay, WI 54302
(920) 884-0409
Join the advertisers of The Log today!
Start seeing the difference! Whether you are buying or selling, The Log can make it simple. This newsletter is published bi-monthly and is received in many US states and Canada. For more information, call us at (920) 884-0409 or contact us online.
Advertising Prices
1/8 Page Ad…………………………….. $45.00/Issue
1/4 Page Ad…………………………….. $90.00/Issue
1/2 Page Ad…………………………… $180.00/Issue